Connacht and South Connacht Track and Field
A number of our students competed in the South Connacht track and field event in TUS Athlone, on Tuesday 10th May. Transition year student Hollie Kilroe won both of her races, the 800m and the 300m intermediate event. Ciara Carr (6th year) and Hazel Kelly (3rd Year) both qualified for Connacht track and field in the 3000m and 1500m intermediate events respectively. 1st year student Fiona Duda qualified for the Minor 75m hurdles.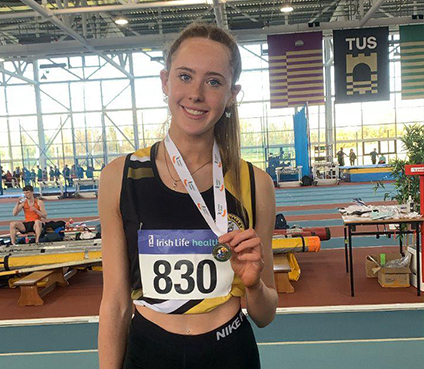 Well done also to Lucy Hone (Junior), Adrianna Salvador Rodrigues (Junior), and Roisin O'Grady (Minor) who all competed in the 75m hurdles event. On Thursday 19th May, a number of students traveled to the Connacht finals in TUS Athlone to compete in a number of events. Hollie was placed first in both the 300m and 800m, while Fiona Duda and Hazel Kelly put in great performances in the 75m hurdles and 1500m run respectively.
Best of luck to Hollie Kilroe, who will be competing in the All-Ireland final (300m and 800m) in Tullamore on Saturday June 4th. Well done to all those that competed in athletics over the year.